Pyotr Gorban was born 1923 in Stavropol, located between the Caspian Sea and the Black Sea. Gorban was not interested in drawing until he tumbled (as he puts it) on an art studio when he was about 10 or 11 years old. He then joined the People's House art studio where he says he got lucky: His art teacher inspired his class so much that most of his students became artists or architects.
After serving 6 years in the Red Army, Gorban enrolled himself at Krasnodar art school in Kuban, near the Black Sea and one of the most southern parts of Russia, where he studied for 4 years. Upon finishing his studies, Gorban worked at Krasnodar Art Museum where he was first exposed to the works of the avant garde that were building up dust in the museum's attic.
In 1947, by the age of 44, Gorban was accpted into the Union of Artists.
In 1953 Gorban returned to his native Stavropol to pursue his artistic career. He started earning a living by painting portraits of the word's proletariat leaders , especially those of Lenin and Stalin, which he says almost killed his creative ability. He then went on to exhibit current topics of his industrial contemporaries such as the Stavropol Gasmen, commissioned in 1964, to celebrate the launch of gas supply to Stavropol. These works were very well received both by the public and by the exhibition committees and he said that from then onwards his art was featured in regional exhibitions on a regular basis.
By the late 1970s Gorban's growing dissatisfaction with himself and the repetitive subject matter of his commissions lead him to reconsider his work and his raison d'être. After reading a story from the second world war, Gorban changed his style radically and created his series entitled Five Poplars. Gorban says it was an artistic turning point for him as he felt the inspiration to not merely paint something, but paint in symbols. Five Poplars was very well received and he continued to exhibit in different cities from Moscow to St Petersburg to Tbillisi, Georgia.
Other works by Gorban captures images of people of all ages and professions who all have different views on the world and his painting, Playing Domino's for example, was published in the Soviet book entitled Still Life of Artists of Russia.
Gorban's everyday life becomes his "second nature" and the subject of many beautiful sketches. But a frank admiration of daily life does not mean that he idealizes it. In his sketches, there is also loneliness, illness, and death. But the artist depicts these "living costs" so simply and naturally that they do not overshadow his overall harmony. His everyday scenes could take place anytime and anywhere.
His admiration and attraction to human life and its reality expressed itself in his symbolic interpretation of reality. But his interpretation of reality contradicted the ideology of Soviet social realism. As a consequence his works were no longer shown at exhibitions and by the second part of his life his only followers were his students. His increasing isolation ultimately worked to his advantage as Gorban gained recognition as an 'official genius'.
Gorban's painting, despite its expressiveness and attraction to symbolism, grew from his immediate experience of life. His artworks express genuinely humanist and universal values. They are created out of a profound inner experience of life with an enormous power of expression and attraction.
By the 1990's Gorban started working on his Biblical Series, illustrating pages of the Old and New Testament. Each day he created a graphic work on biblical subjects that he kept as a diary, creating works depicting the birth of Christ until His Ascention. He signed each work with a quote from the Old and New Testament.
Pyotr Gorban died on November 24th 1995 leaving behind him a rich heritage and legacy.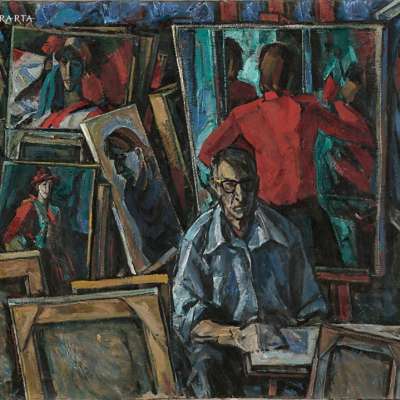 Solo Exhibtions:
1993 solo exhibition at the Museum of Regional Studies, Stavropol, Russia.

1992 exhibition of works from the series "The Bible" in Stavropol and Pyatigorsk, Russia.

1989 solo exhibitions in Moscow, Ordzhonikidze, Makhachkala, and Stavropol, Russia.

1987 solo exhibition at the Central House of the Arts, Moscow, Russia.

1986 solo exhibition at the Union of Artists, Leningrad, Russia.

1984 solo exhibition at the House of Artists, Tbilisi, Georgia, Russia.

1983 solo exhibitions in Tbilisi, Cherkessk, Nevinnomysk, and Donskoy, Russia.

1982 solo exhibitions in Stavropol and Pyatigorsk, Russia.
Group Exhibitions:
1995 contributed to the exhibition of veteran artists called
"Peace in the Homeland," commemorating the 50th anniversary of victory in World War II.

1974 exhibited a series of works entitled Trailer Plant Builders at the regional exhibition in Ordzhonikidze, Russia.

1973 Still Life: An exhibition of works from artists of the Russian Federation, Moscow, Russia. His work Domino (1971) was published in I.N Filonovich's book, Still Life (Leningrad Artist of RSFR, 1975)

1972 exhibited at the Earth and People exhibition at the All-Russia Exhibition Centre, Moscow, Russia.

1967 exhibited a series of works dedicated to ironworkers at the regional exhibition in Krasnador, Russia.

1964 Stavropol Gasworkers regional exhibition, Russia.
Selected Public and Private Collections:
Erarta, Museum and Galleries of Contemporary Art, St Petersburg, Russia.

Regional Museums of Fine Arts, Stavropol, Russia.